GR®
Long Distance Footpaths
Guest house, Bed and breakfast, Shelter, Hotel, Inn, Hostel, Country Inn, Campsite, routes, maps, practical information
Webmaster: Philippe Papadimitriou L'Etoile Guesthouse Création: 2001 Copyright © gr-infos.com (Authorization for private use only)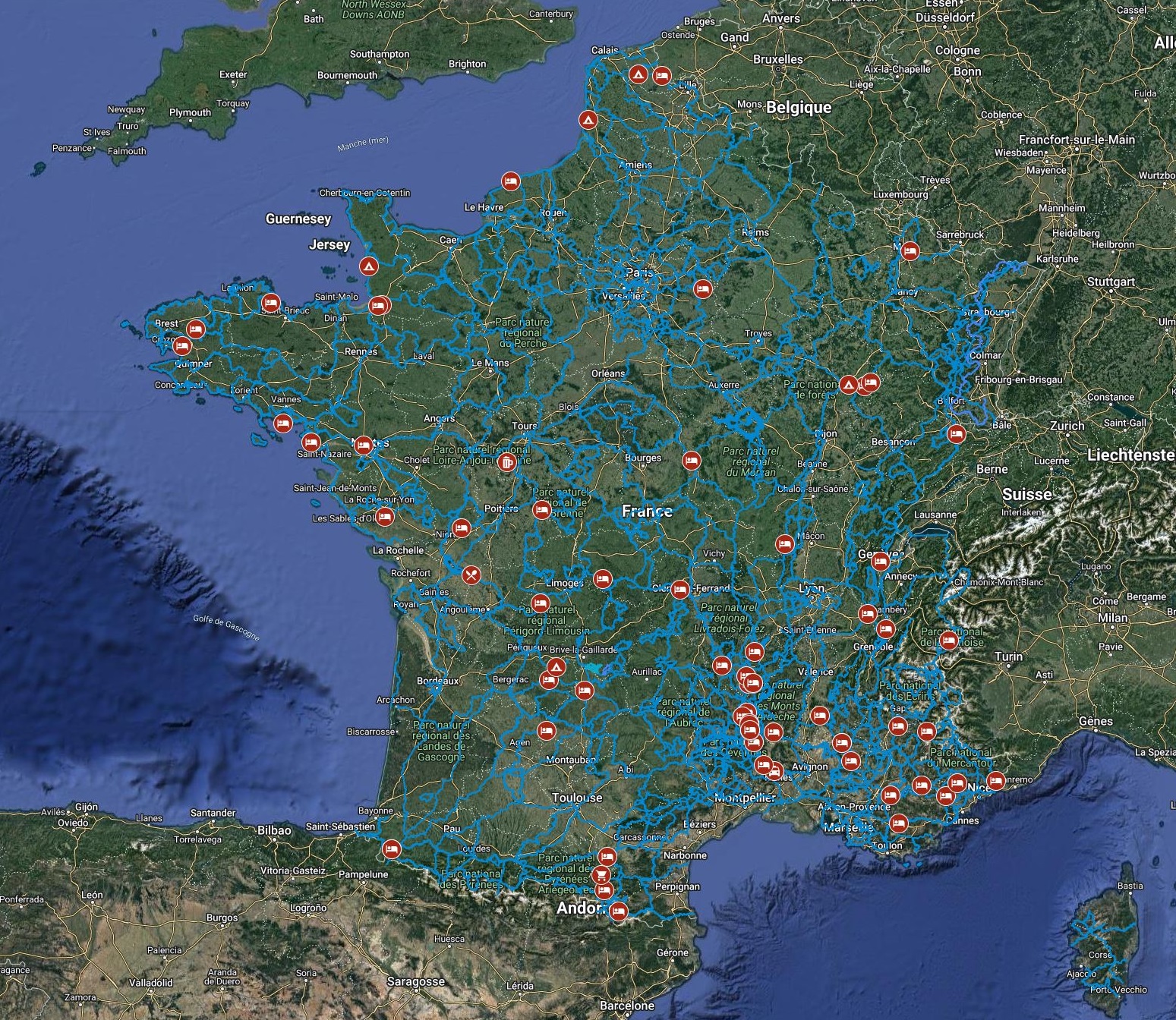 Interactive map


(Loading time of the page: 15 seconds)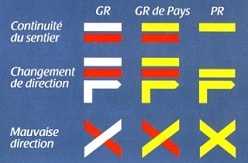 Registration
Accommodation or business owner on or near a GR®, you can appear on GR-INFOS
For your registration, you can send me by email (papadimitriou4@gmail.com): your address and phone number, your website (Facebook page), a brief description with 5 beautiful photos of your establishment.
Registration price : € 20 per GR® or GRP® and per year (12 months) or € 80 for 5 years. Renewable.
The GR® (Long hiking trails) are a network of hiking trails in France that offer outdoor enthusiasts the opportunity to explore the country on foot through diverse and beautiful landscapes. These marked trails are maintained by the Fédération Française de la Randonnée Pédestre (FFRP) and provide a unique experience of discovering French nature, history, and culture. The GR® network covers the entire French territory, from coastal areas to alpine mountains, passing through green countryside and picturesque villages. Each trail is numbered and signposted, providing hikers with easy and safe navigation throughout their journey.
The GR® trails offer a wide variety of landscapes. Hikers can explore the wild coasts of Brittany and Normandy on the GR®34, following the Atlantic coastline. They can also embark on a mountain adventure on the GR®10, which traverses the Pyrenees, offering spectacular panoramas of snow-capped peaks, deep valleys, and crystal-clear lakes. The GR® trails also cross iconic regions such as Provence, Corsica, Burgundy, Alsace, and many more. These trails also provide insights into the history and culture of France. Hikers can discover prehistoric ruins, medieval castles, centuries-old abbeys, and traditional villages along their journey. The GR® trails also pass through regional nature parks, nature reserves, and UNESCO World Heritage sites, providing an immersive experience in France's preserved nature and biodiversity.
The GR® trails are designed to cater to the needs and abilities of all hikers. Whether you're a beginner hiker looking for leisurely day walks or an experienced hiker ready to tackle more challenging multi-day hikes, there is a GR® trail suited for every fitness level and experience. In addition to their sports and recreational aspect, the GR® trails allow hikers to reconnect with nature, recharge, and enjoy moments of peace and tranquility. The trails also provide opportunities to meet other hiking enthusiasts, share experiences, and create lasting memories. In summary, the GR® (Grande Randonnée) trails constitute an exceptional network of signposted trails that allow hikers to discover the beauty, diversity, and history of France through varied and magnificent landscapes.
Others hikes
Practical advice
Check the opening of some accommodations during the low season.
Book your lodging (generally 30% deposit and the balance at the end of your stay).
Take with you some cash because most accommodations to not accept Credit Card.
Take with you a bed sheet rather than a sleeping bag (Blankets on the spot).
Put your things in a large plastic bag that you place in your backpack to keep dry.
Arrival times (check-in) in the accommodation are, in general, no earlier than 15h (3pm).
Before every trek, make sure that you have all your gears and everything is working fine. Some walking trail can be quite difficult to complete and a good and fitted equipment will be necessary.
Most important of all, do not spare on your walking shoes. This is your most important gear for your walks so they need to be as comfortable as possible to have the best time on a trek.

It is advisable to follow the beacons all along your hike and to bring you the FFRandonnee topo-guide. You will also find information on MonGR.fr.
GR®, PR®, GRP®, and the corresponding signs of markings (white / red, yellow and yellow / red) are trademarks of the French Federation of Hiking. They may not be reproduced without permission. The French Federation of Hiking, state-approved, includes organizations that create and maintain hiking routes on GR®, PR® and GRP®. It publishes guides these topo hiking routes.
With your donations, support the actions of the thousands of volunteer markers of the FFRP.
Old romantic Hotel, L'Etoile Guest-House is a mountain retreat in the South of France. With a beautiful park along the Allier River, L'Etoile Guesthouse is located in La Bastide-Puylaurent between Lozere, Ardeche and Cevennes. Many hiking trails like GR®7, GR®70 Stevenson trail, GR®72, GR®700 Regordane way, Cevenol, GR®470 Allier river trail, Margeride, Ardechoise. Many hiking loops. The right place to relax.
Copyright © gr-infos.com (Authorization for private use only)