| | | |
| --- | --- | --- |
| | Hike across France on the GR®6 from GR®6 Hiking from Arcachon to Fouillouse through Gironde, Dordogne, Lot, Aveyron, Lozere, Gard, Bouches-du-Rhone, Vaucluse and Alpes-de-Haute-Provence department. Guest House, Bed and Breakfast, Hotel, Camping, Shelter, Inn, Shops. | |

GR®6
Gironde to Alpes-de-Haute-Provence
From Arcachon (Gironde) to Fouillouse (Alpes-de-Haute-Provence)
1371km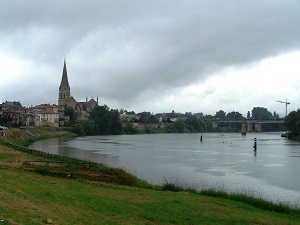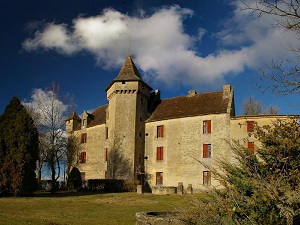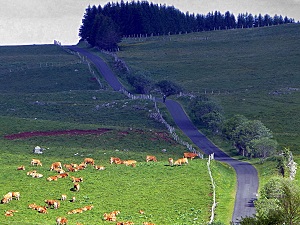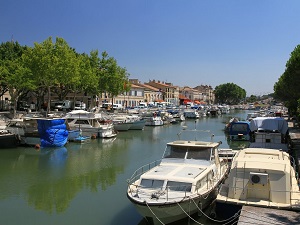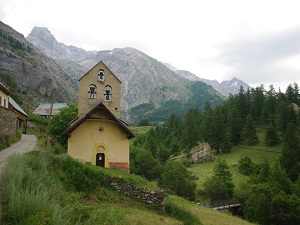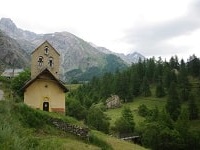 Google Maps - Google Earth - GPX

Distance: 1371km, Elevation maximum: 2673m, Elevation minimum: 0m, Elevation gain uphill: 35157m
IGN Maps: Sauveterre-De-Guyenne - 1637E. La Reole - 1638E. Langon - 1638O. Duras - 1737E. Monsegur - 1737O. Sainte-Foy-la-Grande (1736E). Creysse (1836E). Castillonnes (1837E). Eymet (1837O). Les Eyzies Vallees de Dordogne and de la Vezere (1936ET). Lalinde (1936O). Sarlat Souillac Vallee de Dordogne (2036ET). Rocamadour Padirac Vallee de Dordogne (2136ET). Gramat Rocamadour (2137E). Lacapelle-Marival (2237O). Latronquiere (2237E). Figeac (2238E). Marcillac-Vallon Conques (2338E). Decazeville (2338O). Espalion (2438E). Estaing Gorges du Lot (2438O). St-Germain-du-Teil (2538E). St-Geniez-d'Olt (2538O). Severac-le-Chateau (2539E). Gorges du Tarn and de la Jonte Causse Mejan PN des Cevennes (2640OT). Mont Aigoual le Vigan PN des Cevennes (2641ET). Millau Gorges de la Dourbie Causse Noir (2641OT). St-Hippolyte-du-Fort Anduze St-Jean-du-Gard (2741ET). Vezenobres (2841E). Anduze (2841O). Uzes (2941O). Beaucaire Tarascon (2942E). Tarascon St-Remy-de-Provence Chaine des Alpilles (3042OT). St-Martin-de-Crau Les Baux-de-Provence Les Alpilles (3043OT). Cavaillon Fontaine-de-Vaucluse PNR du Luberon (3142OT). Salon-de-Provence Miramas (3143OT). Apt PNR du Luberon (3242OT). La Motte-Du-Caire Vallee du Sasse - 3339ET. Digne-Les-Bains Sisteron Les Mees - 3340ET. Montagne-De-Lure Les Mees Chateau-Arnoux - 3341OT. Embrun Les Orres Lac de Serre-Poncon - 3438ET. Seyne Chabanon Grand-Puy Tete de l'Estrop - 3439ET. Aiguille de Chambeyron Cols de Larche et de Vars - 3538ET.
Les Eyzies: Le Pech Charmant Camping, M. Chevalier, 05 53 35 97 08, 06 70 47 26 24, Email, Facebook, Instagram
Haven of peace for nature lovers in the heart of a forest of oaks and chestnut trees, it offers all the conveniences for hikers on the GR6, GR36 & GR64. Furnished safari tents and cabin lodge, heated swimming pool, gourmet restaurant & snack, private bathrooms. Possibility to go for walks with one of their donkeys.

Cales: Moulin de Latreille, M. Stonor, 09 65 22 04 03, Email
Le Moulin de Latreille is built by Cistercian monks and nestled in the Ouysse valley, surrounded by cliffs and wildflower meadows. The Stonor family invites their guests to enjoy complete relaxation in this rural idyll. Relax in the unspoilt countryside where kingfishers, nightingales, wild orchids, damselflies, butterflies and herons abound.

Meolans-Revel: Rioclar Camping*** Julie et Benoît Clayette, 04 92 81 10 32
Mobile homes, chalets or tents in a 8 acres forest by the river. On your return from your hikes, you can take advantage of its large heated swimming pool and spend the evening in the restaurant with a breathtaking view of the mountains. Heated swimming pool, river access, rafting base, tennis, multi-sports ground, bocce, table tennis...

Registration
Accommodation or business owner on or near a GR®, you can appear on GR-INFOS
For your registration, you can send me by email (papadimitriou4@gmail.com): your address and phone number, your website (Facebook page), a brief description with 5 beautiful photos of your establishment.
Registration price : € 15 per GR® or GRP® and per year (12 months) or € 60 for 5 years. Renewable.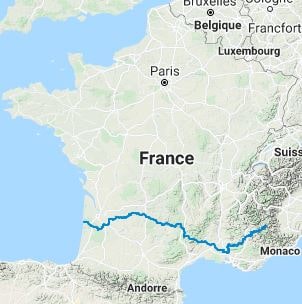 GR®6 From Gironde to Alpes-de-Haute-Provence (Full itinerary)
From Arcachon to Villandraut (Gironde)
From Villandraut to Ste Foy-la-Grande (Gironde)
From Ste Foy-la-Grande (Gironde) to Eyzies-de-Tayac-Sireuil (Dordogne)
From Eyzies-de-Tayac-Sireuil (Dordogne) to Lacapelle-Marival (Lot)
From Lacapelle-Marival (Lot) to Espalion (Aveyron)
From Espalion (Aveyron) to St Pierre-des-Tripiers (Lozere)
From Saint-Pierre-des-Tripiers (Lozere) to Ners (Gard)
From Ners (Gard) to Aureille (Bouches-du-Rhone)
From Aureille (Bouches-du-Rhone) to Viens (Vaucluse)
From Viens (Vaucluse) to Bayons (Alpes-de-Haut e-Provence)
From Bayons (Alpes-de-Haute-Provence) to Fouillouse (Hautes-Alpes)

It is advisable to follow the beacons all along your hike and to bring you the FFRandonnee topo-guide. You will also find information on MonGR.fr.
GR®, PR®, GRP®, and the corresponding signs of markings (white / red, yellow and yellow / red) are trademarks of the French Federation of Hiking. They may not be reproduced without permission. The French Federation of Hiking, state-approved, includes organizations that create and maintain hiking routes on GR®, PR® and GRP®. It publishes guides these topo hiking routes.
With your donations, support the actions of the thousands of volunteer markers of the FFRandonnee.
GR-Infos.com is an editorial partner of MonGR.fr.

Old romantic Hotel, L'Etoile Guest-House is a mountain retreat in the South of France. With a beautiful park along the Allier River, L'Etoile Guesthouse is located in La Bastide-Puylaurent between Lozere, Ardeche and Cevennes. Many hiking trails like GR®7, GR®70 Stevenson trail, GR®72, GR®700 Regordane way, Cevenol, GR®470 Allier River Springs and Gorges, Margeride, Ardechoise. Many hiking loops. The right place to relax.
Copyright © gr-infos.com