| | | |
| --- | --- | --- |
| | Hike on the GR®5 from Schengen (Luxembourg) to Nice (French Riviera) through Moselle, Meurthe-et-Moselle, Bas-Rhin, Haut-Rhin, Doubs, Haute-Savoie, Savoie , Hautes-Alpes and Alpes-Maritimes department. Guest House, Bed and Breakfast, Hotel, Camping, Shelter, Inn, Shops. | |

GR®5
From Luxembourg to Mediterranean sea
From Schengen (Luxembourg) to Nice (Alpes-Maritimes)
1526km
The GR®5 is one of the most iconic long-distance hiking trails in Europe. Stretching over 1500 kilometers, it offers hikers an unforgettable adventure through varied and magnificent landscapes. Hikers begin their journey in the charming city of Luxembourg, where they can explore its historic fortifications before embarking on the trail. The early stages of the GR®5 traverse the lush green hills of Luxembourg, providing panoramic views of the countryside. Leaving Luxembourg behind, the trail crosses the eastern regions of France, immersing hikers in the beauty of the French countryside. The Vosges Mountains stand majestically along the path, offering picturesque trails through dense forests and peaceful valleys. The trail follows the Franco-Swiss border, where the landscapes take on a whole new dimension. The Swiss Alps rise before the hikers, with their snow-capped peaks and glacier-carved valleys. Hikers may also encounter diverse wildlife, including chamois and marmots, while exploring the alpine landscapes.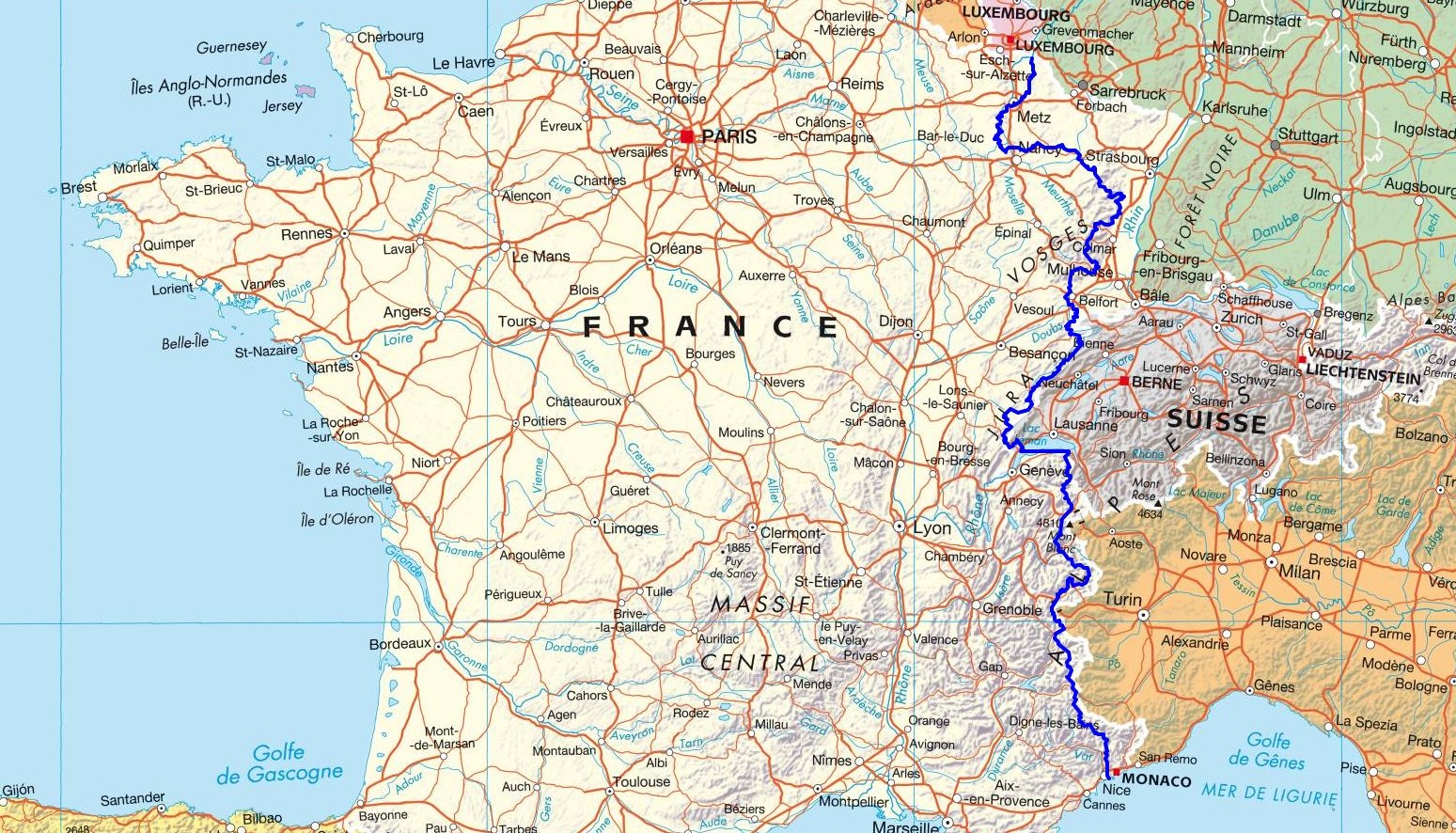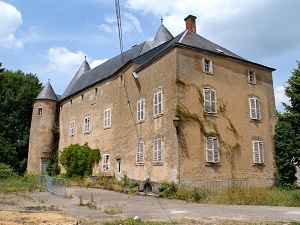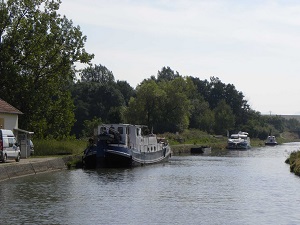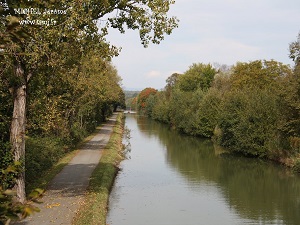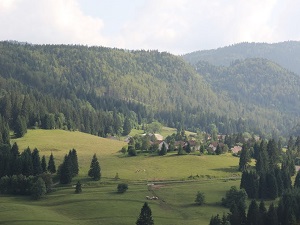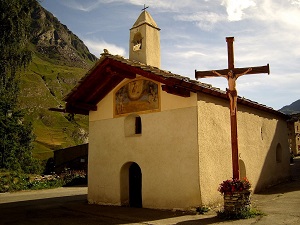 © GPX Private use only
Distance: 1526km, Elevation maximum: 2763m, Elevation minimum: 5m, Elevation gain uphill: 56777m
Servigny-les-Sainte-Barbe: Le Patio d'Oscar Guest House, M. Christophe Camu, 03 74 11 02 96, Email
Our Guesthouse is located in the heart of a typical Lorraine village. New wooden frame house with 3 bedrooms, a kitchen, living room, dining room reserved for our guests, an infrared sauna particularly appreciated by walkers (muscular rest).
Grandfontaine (Switzerland): Chalet Guest house, M. Coppola, +41 786 746 470, Email, Instagram, Facebook.
Spacious and comfortable room, table d'hotes with local and homemade products. Hearty, varied and quality breakfast. We can also prepare a picnic for your outings to discover Ajoie. Possibility of bike rental. Large garden.
Termignon (Val Cenis): Refuge - Bellecombe Inn, M. Jacquemmoz, 0479563270, 0682241817, Email, Instagram, Facebook
Authentic and comfortable family mountain refuge, located in the heart of the Vanoise National Park at an altitude of 2350m. Home cooking over a wood fire using local products. Rooms for 2, 4 and 6 people, capacity 30 beds. Open from June to September by reservation. Half-board formula and packed lunch if necessary.

Registration
Accommodation or business owner on or near a GR®, you can appear on GR-INFOS
For your registration, you can send me by email (papadimitriou4@gmail.com): your address and phone number, your website (Facebook page), a brief description with 5 beautiful photos of your establishment.
Registration price : € 20 per GR® or GRP® and per year (12 months) or € 80 for 5 years. Renewable.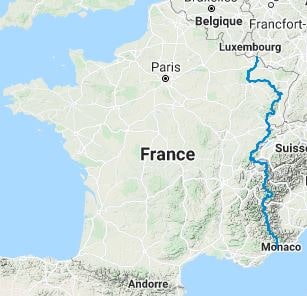 GR®5 From Luxembourg to Mediterranean sea
From Schengen (Luxembourg) to Bayonville-Sur-Mad (Meurthe-et-Moselle)
From Bayonville-Sur-Mad (Meurthe-et-Moselle) to Dieuze (Moselle)
From Dieuze (Moselle) to Andlau (Bas-Rhin)
From Andlau (Bas-Rhin) to Thann (Haut-Rhin)
From Thann (Haut-Rhin) to Soulce-Cernay (Doubs)
From Soulce-Cernay to Montperreux (Doubs)
From Montperreux (Doubs) to Nyon (Leman Lake-Switzerland)
From Thonon-les-Bains to Les Houches (Haute-Savoie)
From Les Houches (Haute-Savoie) to Bessans (Savoie)
From Bessans (Savoie) to Montgenevre (Hautes-Alpes)
From Montgenevre (Hautes-Alpes) to St Dalmas-le-Selvage (Alpes-Maritimes)
From St Dalmas-le-Selvage to Nice (Alpes-Maritimes)
GR®5B From the Pastoral Hut of Thures to the Oratory of Saint Roch (Hautes-Alpes)
GR®5C From Nevache to Briancon (Hautes-Alpes)
GR®5E From Bonneval-sur-Arc to Modane (Savoie)
GR®5F Moselle Valley
GR®5G From Saarbrücken (Germany) to Metz (Moselle)

It is advisable to follow the beacons all along your hike and to bring you the FFRandonnee topo-guide. You will also find information on MonGR.fr.
GR®, PR®, GRP®, and the corresponding signs of markings (white / red, yellow and yellow / red) are trademarks of the French Federation of Hiking. They may not be reproduced without permission. The French Federation of Hiking, state-approved, includes organizations that create and maintain hiking routes on GR®, PR® and GRP®. It publishes guides these topo hiking routes.
With your donations, support the actions of the thousands of volunteer markers of the FFRandonnee.
GR-Infos.com is an editorial partner of MonGR.fr.

Old romantic Hotel, L'Etoile Guest-House is a mountain retreat in the South of France. With a beautiful park along the Allier River, L'Etoile Guesthouse is located in La Bastide-Puylaurent between Lozere, Ardeche and Cevennes. Many hiking trails like GR®7, GR®70 Stevenson trail, GR®72, GR®700 Regordane way, Cevenol, GR®470 Allier River Springs and Gorges, Margeride, Ardechoise. Many hiking loops. The right place to relax.
Copyright © gr-infos.com (Authorization for private use only)