| | | |
| --- | --- | --- |
| | Hiking on the GR®36 from Channel to Pyrenees starting at Ouistreham (Calvados) to Bourg-Madame (Eastern-Pyrenees). Guest House, Bed and Breakfast, Hotel, Camping, Inn. | |

GR®36
From Channel to Pyrenees
From Ouistreham (Calvados) to Putanges-Pont-Ecrepin (Orne)
1916km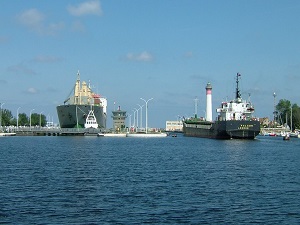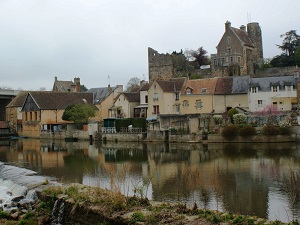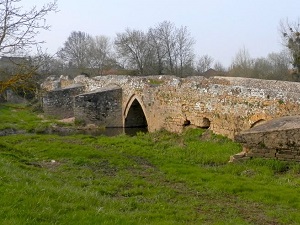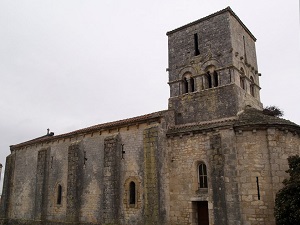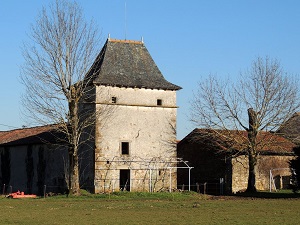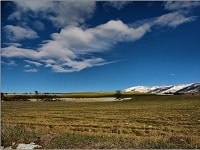 Google Maps - Google Earth - GPX

Distance: 1916km, Elevation maximum: 2379m, Elevation minimum: 0m, Elevation gain uphill: 37811m
IGN Maps: Thury-Harcourt (1513E). Athis-de-l'Orne la Suisse Normande (1514E). Caen Ouistreham (1612OT). Falaise (1614O). Putanges-Pont-ecrepin (1615O). Argentan (1615E). Foret d'ecouves Alencon PNR Normandie-Maine (1616ET). St-Pierre-Des-Nids Alpes Mancelles (1617E). Foret de Sille-le-Guillaume PNR Normandie-Maine (1618OT). Haras du Pin Argentan (1715OT). Ballon (1718E). Beaumont-sur-Sarthe (1718O). Le Mans (1719E). Foret de Berce Chateau-du-Loir (1720ET). Montfort-le-Gesnois (1819O). Chateau-la-Valliere (1721E). Le Lude (1721O). Savigne-sur-Lathan (1722E). Noyant (1722O). Bourgueil Fontevraud-l'Abbaye (1723O). Saumur (1623E). Thouars Nord le Puy-Notre-Dame (1624O). Airvault (1625E). Thouars (1625O). Thenezay (1626E). Secondigny (1527E). Niort (1528E). Frontenay-Rohan-Rohan foret de Chize (1529E). Parthenay (1626O). Brioux-sur-Boutonne (1629O). Couture-d'Argenson (1630E). Aulnay (1630O). Villefagnan (1730O). Mansle (1731E). La Rochefoucauld (1831O). Angouleme Est / Ruelle-sur-Touvre (1732E). Angouleme (1732O). Villebois-Lavalette (1733E). La Rochefoucauld (1831O). Nontron (1833E). Mareuil (Dordogne) (1833O). Perigueux (1934O). Excideuil (Dordogne) (1934E). Thenon (1935E). Les Eyzies Vallees de la Dordogne et de la Vezere (1936ET). Montignac Grotte de Lascaux (2035O). Belves (1937E). Beaumont-du-Perigord (1937O). Fumel (1938E). Puy-l'eveque (2038O). Luzech (2038E). Puy-l'eveque (2038O). Cahors St-Cirq-Lapopie Vallees du Lot et du Cele (2138OT). Limogne-en-Quercy (2139E). Cahors (2139O). Martiel (2239O). Najac (2240E). Varen Laguepie (2240O). Albi (2241E). Cordes-sur-Ciel (2241O). Carmaux (2341O). Valence-d'Albigeois (2341E). Carmaux (2341O). Alban (2342E). Castres le Sidobre PNR du Haut-Languedoc (2343ET). Montagne Noire Est / Mazamet PNR du Haut Languedoc (2344ET). Carcassonne (2345E). Cazilhac (2346E). Capendu (2446O). Quillan Alet-les-Bains (2347OT). Prades St-Paul-de-Fenouillet (2348ET). Capendu (2446O). Tuchan massif des Corbieres (2447OT). Bourg-Madame Col de Puymorens Pic Carlit (2249OT). Bourg-Madame Mont-Louis Col de la Perche (2250ET). Massif du Canigou (2349ET).
Accommodation & Shops
Longre: La Biargerie Guest House, M. Prieur, 06 59 61 23 84, Email
Open all year. In summer, a swimming pool with free access. Guest rooms with private bathrooms. Table d'hôtes meals on reservation. We can organize a horse-drawn carriage ride along the river. So don't hesitate to stay with us and tell us about your encounters and your journey through France.
Font-Romeu: Le Logis Catalan Guesthouse, M. Michaud, 04 68 30 01 04, 06 64 81 53 84, Email
Murielle and Jean-Louis Michaud welcome you to their group and family stopover lodge with a capacity of 36 beds. Open all year. Overnight, half-board, packed lunch, free management, dormitory, rooms. Group rate. Hiking Trails: GR®10, GR®36, GRP®Capcir, GRP®Carlit, GRP®Perics, GRP®Cerdagne.

Registration
Accommodation or business owner on or near a GR®, you can appear on GR-INFOS
For your registration, you can send me by email (papadimitriou4@gmail.com): your address and phone number, your website (Facebook page), a brief description with 5 beautiful photos of your establishment.
Registration price : € 15 per GR® or GRP® and per year (12 months) or € 60 for 5 years. Renewable.
Share your experience about this trail
GR®36 From Channel to Pyrenees (Full itinerary)
From Ouistreham (Calvados) to Putanges-Pont-Ecrepin (Orne)
From Putanges-Pont-Ecrepin (Orne) to Mont-Saint-Jean (Sarthe)
From Mont-Saint-Jean to St Mars-d'Outille (Sarthe)
From St Mars-d'Outille (Sarthe) to Allonnes (Maine-et-Loire)
From Allonnes (Maine-et-Loire) to Gourge (Deux-Sevres)
From Gourge to Chize (Deux-Sevres)
From Chize (Deux-Sevres) to La Rochefoucauld (Charente)
From La Rochefoucauld (Charente) to Bussac (Dordogne)
From Bussac to Les Eyzies-de-Tayac-Sireuil (Dordogne)
From Les Eyzies-de-Tayac-Sireuil (Dordogne) to Prayssac (Lot)
From Prayssac (Lot) to Savignac (Aveyron)
From Savignac (Aveyron) to Marsal (Tarn)
From Marsal to Cambounes (Tarn)
From Cambounes (Tarn) to Ribaute (Aude)
From Ribaute (Aude) to Sournia (Eastern-Pyrenees)
From Sournia to Bourg-Madame (Eastern-Pyrenees)
Wikipedia GR®36

It is advisable to follow the beacons all along your hike and to bring you the FFRandonnee topo-guide. You will also find information on MonGR.fr.
GR®, PR®, GRP®, and the corresponding signs of markings (white / red, yellow and yellow / red) are trademarks of the French Federation of Hiking. They may not be reproduced without permission. The French Federation of Hiking, state-approved, includes organizations that create and maintain hiking routes on GR®, PR® and GRP®. It publishes guides these topo hiking routes. With your donations, support the actions of the thousands of volunteer markers of the FFRandonnee.
GR-Infos.com is an editorial partner of MonGR.fr.

Old romantic Hotel, L'Etoile Guest-House is a mountain retreat in the South of France. With a beautiful park along the Allier River, L'Etoile Guesthouse is located in La Bastide-Puylaurent between Lozere, Ardeche and Cevennes. Many hiking trails like GR®7, GR®70 Stevenson trail, GR®72, GR®700 Regordane way, Cevenol, GR®470 Allier river, Margeride, Ardechoise. Many hiking loops. The right place to relax.
Copyright © gr-infos.com