| | | |
| --- | --- | --- |
| | Hike on the GR®9 from Saint-Amour (Jura) to Port Grimaud (Var) through Ain, Savoie, Isere, Drome and Vaucluse department. Guest House, Bed and Breakfast, Hotel, Camping, Inn. | |

GR®9
From Jura to Mediterranean
963km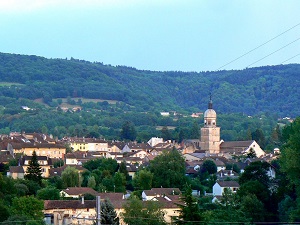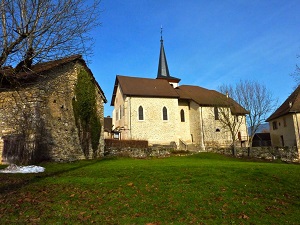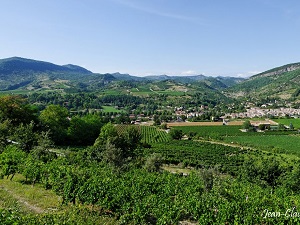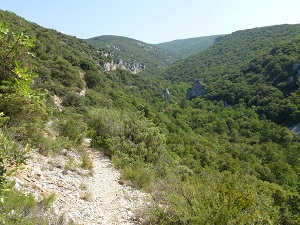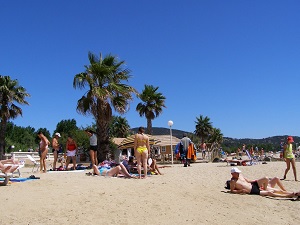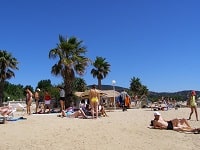 Google Maps - Google Earth - GPX

Distance: 962,9km, Elevation maximum: 1901m, Elevation minimum: 2m, Elevation gain uphill: 38850m
IGN Maps: Les Rousses (1240). Col de La Faucille (1260). St-Amour (3128E). St-Amour Arinthod Orgelet (3227OT). Morez Les Rousses Col de la Faucille (3327ET). St-Claude Lac de Vouglans PNR du Haut Jura (3327OT). Cret de la Neige Oyonnax Lelex PNR du Haut Jura (3328OT). Belley Saint-Genix-Sur-Guiers Sud Bugey - 3232ET. Bellegarde-Sur-Valserine Foret Cret d'Eau - 3330OT. Rumilly Seyssel Le Grand Colombier - 3331OT. Chambery Aix-Les-Bains Lac du Bourget - 3332OT. Massif de la Chartreuse Nord (3333OT). Massif de la Chartreuse Sud (3334OT). Grenoble Chamrousse Belledonne (3335OT). Combe Laval foret de Lente PNR du Vercors (3136ET). Charpey (3136O). Die Crest PNR du Vercors (3137OT). Tullins (3234O). Autrans Gorges de la Bourne PNR du Vercors (3235OT). Dieulefit St-Nazaire-le-Desert foret de Saou (3138OT). Nyons Remuzat Baronnies (3139OT). Mont Ventoux (3140ET). Banon Sault Plateau de St-Christol (3240OT). Apt PNR du Luberon (3242OT). Pertuis Lourmarin PNR du Luberon (3243OT). Montagne Ste-Victoire Aix-en-Provence Gardanne Trets (3244ET). Aubagne la Ciotat massif de la Ste-Baume (3245ET). Manosque Forcalquier PNR du Luberon (3342OT). St-Maximin-la-Ste-Baume Barjols Trets Mont Aurelien (3344OT). Signes Tourves massif de la Ste-Baume (3345OT). Cuers Pierrefeu-du-Var Collobrieres massif des Maures (3445OT). St-Tropez Ste-Maxime massif des Maures (3545OT).




Registration
Accommodation or business owner on or near a GR®, you can appear on GR-INFOS
Option 1: Your establishment on google maps, phone number, description, 5 photos and link to your website if you have one. Send by Email
Page in French and page translated into English.
See an example at https://www.gr-infos.com/en/gr700a.htm.
Registration price : € 10 per GR® or GRP® and per year (12 months) or € 40 for 5 years. Renewable.
Option 2: Creation of a web page with an address: https://www.gr-infos.com/"name of your accommodation ".htm, 5 photos, your accommodation on the google maps and a detailed description. Send by Email
Page in French and page translated into English.
See an example at https://www.gr-infos.com/en/goelo.htm.
Registration price : € 50 per year (12 months) or € 200 for 5 years. Renewable.
3 possibilities to pay for your registration:
By transfer: La Banque Postale, Papadimitriou Philippe, Iban: FR65 2004 1010 0913 5765 2E03 013, BIC or SWIFT: PSSTFRPPMON.
By credit card via iZettle (Paypal), a payment request will be sent to you by email.
By check payable to Papadimitriou Philippe (address below).
I remain at your disposal for any further information.
Philippe Papadimitriou, Route de Mende, 48250 La Bastide-Puylaurent, 06 83 99 70 86, papadimitriou4@hotmail.com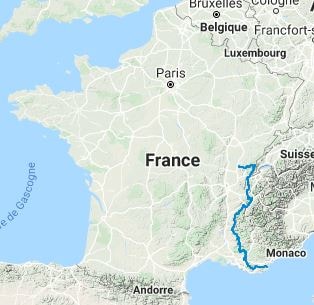 GR®9 From Jura to Mediterranean (Full itinerary)
From St Amour (Jura) to Mijoux (Ain)
From Mijoux (Ain) to Yenne (Savoie)
From Yenne (Savoie) to Grenoble (Isere)
From Grenoble (Isere) to Beaufort-sur-Gervanne (Drome)
From Beaufort-sur-Gervanne to Buis-les-Baronnies (Drome)
From Buis-les-Baronnies (Drome) to Cucuron (Vaucluse)
From Cucuron (Vaucluse) to Saint Zacharie (Var)
From Saint Zacharie to Port Grimaud (Var)
Wikipedia GR®9

It is advisable to follow the beacons all along your hike and to bring you the FFRandonnee topo-guide. You will also find information on MonGR.fr.
GR®, PR®, GRP®, and the corresponding signs of markings (white / red, yellow and yellow / red) are trademarks of the French Federation of Hiking. They may not be reproduced without permission. The French Federation of Hiking, state-approved, includes organizations that create and maintain hiking routes on GR®, PR® and GRP®. It publishes guides these topo hiking routes.
With your donations, support the actions of the thousands of volunteer markers of the FFRandonnee.

Old romantic Hotel, L'Etoile Guest-House is a mountain retreat in the South of France. With a beautiful park along the Allier River, L'Etoile Guesthouse is located in La Bastide-Puylaurent between Lozere, Ardeche and Cevennes. Many hiking trails like GR®7, GR®70 Stevenson trail, GR®72, GR®700 Regordane way, Cevenol, GR®470 Allier River Springs and Gorges, Margeride, Ardechoise. Many hiking loops around L'Etoile Guesthouse. The right place to relax.
Copyright © gr-infos.com