| | | |
| --- | --- | --- |
| | Hike in Lozere on the Tour of Causse Mejean from Meyrueis via Les Herans, St Pierre-des-Tripiers, Rieisse, Rouveret, Montignac, Anilhac, Poujols, Fraissinet, La Codamine and L'Hom. Guest House, Bed and Breakfast, Hotel, Camping, Inn. | |

Tour of Causse Mejean
Hiking around Causse Mejean (Lozere)
119km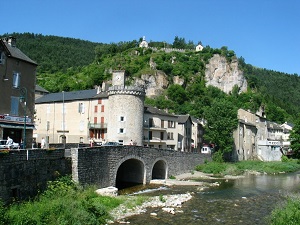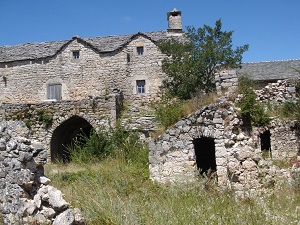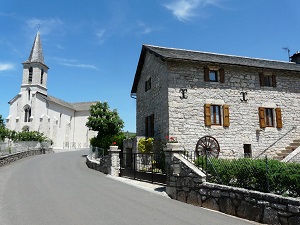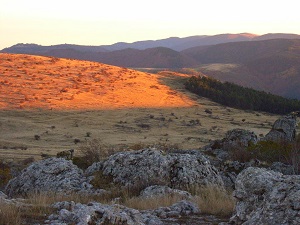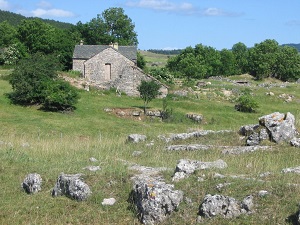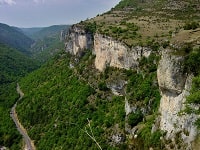 Google Maps - Google Earth - GPX
Distance: 119,66km, Elevation maximum: 1157m, Elevation minimum: 405m, Elevation gain uphill: 3559m
IGN Maps: Aguessac Gorges du Tarn - 2540E. Florac - 2639E. Sainte- Enimie Gorges-Du-Tarn - 2639O. Gorges du Tarn et de la Jonte Causse Mejean Pn des Cevennes - 2640OT. Mont-Aigoual Le Vigan Pn des Cevennes - 2641ET. Millau Gorges de la Dourbie Causse Noir - 2641OT.




Registration
Accommodation or business owner on or near a GR®, you can appear on GR-INFOS
Option 1: Your establishment on google maps, phone number, description, 5 photos and link to your website if you have one. Send by Email
Page in French and page translated into English.
See an example at https://www.gr-infos.com/en/gr700a.htm.
Registration price : € 10 per GR® or GRP® and per year (12 months) or € 40 for 5 years. Renewable.
Option 2: Creation of a web page with an address: https://www.gr-infos.com/"name of your accommodation ".htm, 5 photos, your accommodation on the google maps and a detailed description. Send by Email
Page in French and page translated into English.
See an example at https://www.gr-infos.com/en/goelo.htm.
Registration price : € 50 per year (12 months) or € 200 for 5 years. Renewable.
3 possibilities to pay for your registration:
By transfer: La Banque Postale, Papadimitriou Philippe, Iban: FR65 2004 1010 0913 5765 2E03 013, BIC or SWIFT: PSSTFRPPMON.
By credit card via iZettle (Paypal), a payment request will be sent to you by email.
By check payable to Papadimitriou Philippe (address below).
I remain at your disposal for any further information.
Philippe Papadimitriou, Route de Mende, 48250 La Bastide-Puylaurent, 06 83 99 70 86, papadimitriou4@hotmail.com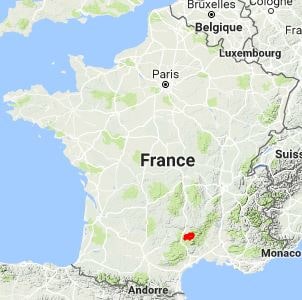 The causse Mejean and its 33.000 hectares, and the causse of Sauveterre and its vastness are seperated by the gorges of the Tarn river. An impressive fracture, coming from some jolts and from the ravages of nature became one of the appealing places of the region. Because, it must be said, the gorges of the Tarn are located in Lozere and not in the adjacent department. The strong flow of the Tarn, bluer then the Danube, are traveled by boat and the hikers are so numerous that they give birth to a new profession, the boatmen... Some enormous boulders overlook the narrow road following the banks of the Tarn and their summits sometimes go on the causses.
The causses, which we often compare to the gruyere cheese because of the large amounts of holes, sinkholes and caves, delighting the spelunker, attract a lot of tourists. These causses are wastelands, but however they allow the subsitence of thousands of sheep. Some stretches provide several moonscapes, of which the charm is undeniable. Except in the summer time, we rarely meet another human being, and if we do it is a shepherd envelopped in its large cloak for the wind, this wind which, like in Sauveterre, blows the earth along.

It is advisable to follow the beacons all along your hike and to bring you the FFRandonnee topo-guide. You will also find information on MonGR.fr.
GR®, PR®, GRP®, and the corresponding signs of markings (white / red, yellow and yellow / red) are trademarks of the French Federation of Hiking. They may not be reproduced without permission. The French Federation of Hiking, state-approved, includes organizations that create and maintain hiking routes on GR®, PR® and GRP®. It publishes guides these topo hiking routes. With your donations, support the actions of the thousands of volunteer markers of the FFRandonnee.
GR-Infos.com is an editorial partner of MonGR.fr.

Old romantic Hotel, L'Etoile Guest-House is a mountain retreat in the South of France. With a beautiful park along the Allier River, L'Etoile Guesthouse is located in La Bastide-Puylaurent between Lozere, Ardeche and Cevennes. Many hiking trails like GR®7, GR®70 Stevenson trail, GR®72, GR®700 Regordane way, Cevenol, GR®470 Allier River Springs and Gorges, Margeride, Ardechoise. Many hiking loops around L'Etoile Guesthouse. The right place to relax.
Copyright © gr-infos.com