| | | |
| --- | --- | --- |
| | Hike on the GR®7 following Watershed line from Vosges to Pyrenees via Haute-Marne, Cote d'Or, Saone-et-Loire, Rhone, Haute-Loire, Ardeche, Lozere, Gard, Herault, Tarn and Ariege departments. Guest House, Bed and Breakfast, Hotel, Camping, Shelter, Inn, Shops. | |

GR®7
From Vosges to Pyrenees
From Ballon d'Alsace (Vosges) to Portella Blanca of Andorra (France-Spain)
1464km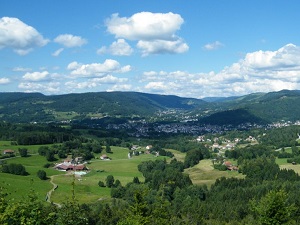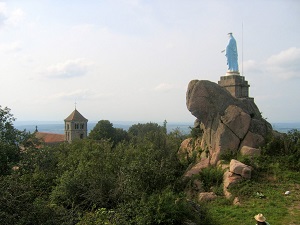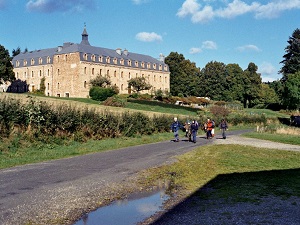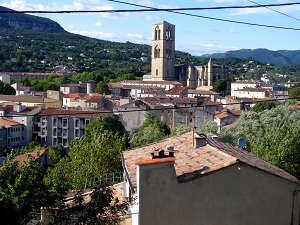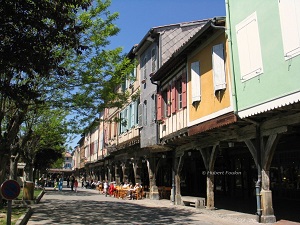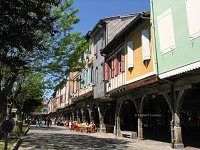 Google Maps - Google Earth - GPX

Distance: 1464km, Elevation maximum: 2516m, Elevation minimum: 130m, Elevation gain uphill: 38914m
IGN Maps: Vittel (3318E). Dompaire (3418O). Epinal (3518OT). Remiremont Plombieres-les-Bains PNR des Ballons des Vosges (3519OT). Ballon d'Alsace PNR des Ballons des Vosges (3520ET). Bussang la Bresse Ballon d'Alsace PNR des Ballons des Vosges (3619OT). Langres (3120E). Bourbonne-les-Bains (3219E). Chalindrey (3220O). Vittel (3318E). Voisey (3319O). Grancey-le-Chateau-Neuvelle (3021E). Val-Suzon St-Seine-l'Abbaye Dijon Ouest (3022ET). Auberive (3120O). Is-sur-Tille (3121O). Dijon (3123O). Ecuisses (2926E). Nuits-St-Georges (3023OT). Beaune Chagny (3025OT). Chalon-sur-Saone (3026O). St-Bonnet-de-Joux (2927O). Matour (2928O) Beaujeu Belleville Haut Beaujolais (2929ET). Villefranche-sur-Saone Vallee de l'Azergues Beaujolais (2930ET). Amplepuis (2930O). Arbresle Monts de Tarare Col de la Luere (2931ET). Tarare (2931O). Monts du Lyonnais (2932ET). Massif du Pilat St-etienne St-Chamond PNR du Pilat (2933ET). Bourg-Argental Col de la Republique PNR du Pilat (2934ET). La Bastide-Puylaurent (2738E). Gerbier de Jonc Mezenc Vivarais (2836OT). Lac d'Issarles Thueyts Sources de la Loire (2837OT). Largentiere la Bastide-Puylaurent Vivarais Cevenol (2838OT). Le Chambon-sur-Lignon St-Agreve (2935OT). Le Cheylard (2936O). Mont Aigoual le Vigan PN des Cevennes (2641ET). Le Bleymard (2738O). Mont Lozere Florac PN des Cevennes (2739OT). Corniche des Cevennes PN des Cevennes (2740ET). Lamalou-les-Bains l'Espinouse le Caroux PNR du Haut Languedoc (2543OT). St-Guilhem-le-Desert Cirque de Navacelles (2642ET). Lodeve Bedarieux Lac de Salagou (2643OT). Montagne Noire Est / Mazamet PNR du Haut Languedoc (2344ET). Somail Minervois St-Pons-de-Thomieres PNR du Haut-Languedoc (2444ET). Bram (2245E). Montreal (Aude) (2246E). Mirepoix (2246O). Montagne Noire Ouest Revel Labruguiere PNR du Haut-Languedoc (2344OT). Lavelanet Montsegur Lac de Montbel (2247OT). Axat Querigut Gorges de l'Aude (2248ET). Font-Romeu Capcir (2249ET). Bourg-Madame Col de Puymorens Pic Carlit (2249OT).
Bourbonne-les-Bains: Le Prieure Guesthouse, M. Daubier-Labreveux, 06 92 23 29 06, Facebook, Email
Our house can easily accommodate travelers. Independent bedroom (sheets and towels provided). Large fully enclosed garden with trees and flowers. Orchard. Sheep. Closed car park. Breakfast & evening meal by reservation. Special hiker stage price.
Arbigny-sous-Varennes: Mon Preslot Bed and Breakfast, Francine Houdenot, 06 86 99 60 76, 03 25 88 73 47
Located between Langres and Bourbonne-les-Bains which allows the GR®7 walkers to make a stop halfway between these two cities. Living room, kitchen and large terrace are available to our guests, meals on request. We come to pick up and return for free hikers from the GR®7 to the nearest Arbigny.
Peigney: Camping de la Liez (5 stars), 03 25 90 27 79, Email, Facebook, Instagram
At the gates of the new "National Forest Park". Restaurant overlooking the lake, open every evening with take-away meals. Indoor heated swimming pool with sauna and jaccuzzi & an outdoor swimming pool. Mobile homes, chalets, trailers, lodge tents or even coconut tents! With or without private sanitary. Open from May 1 to October 3.
Lodeve: A la table de Valy Guesthouse, M. Phan, 07 67 99 91 71, Email
International cuisine. Breakfast, lunch or dinner. The pilgrim can prepare his meal. Cooking can be done together, the human adventure begins around a good table. 1 bedroom with a large bed overlooking the stars and the Virgin, 1 bedroom with a single bed overlooking the skies. Wifi, bicycle shelter, washing machine.
Mirepoix: Gites de Mirepoix B&B Le Presbytere, 06 21 01 17 95, 05 61 69 37 34, Email
At the heart of the medieval city in Cathar country, old presbytery, has old-style gardens, terraces and relaxation areas. Dormitory for hikers of the Way of Saint Jacques de Compostela.

Registration
Accommodation or business owner on or near a GR®, you can appear on GR-INFOS
For your registration, you can send me by email (papadimitriou4@gmail.com): your address and phone number, your website (Facebook page), a brief description with 5 beautiful photos of your establishment.
Registration price : € 15 per GR® or GRP® and per year (12 months) or € 60 for 5 years. Renewable.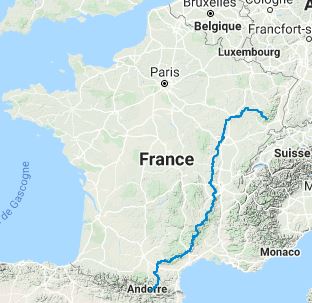 GR®7 From Vosges to Pyrenees region (Full itinerary)
From Ballon d'Alsace to Darney (Vosges)
From Darney (Vosges) to Langres (Haute-Marne)
From Langres (Haute-Marne) to Velars-sur-Ouche (Cote d'Or)
From Velars-sur-Ouche (Cote d'Or) to Le Puley (Saone and Loire)
From Le Puley (Saone and Loire) to Les Sauvages (Rhone)
From Les Sauvages (Rhone) to Charousse Pass (Haute-Loire, Ardeche)
From Charousse Pass (Haute-Loire, Ardeche) to La Bastide-Puylaurent (Lozere)
From La Bastide-Puylaurent (Lozere) to L'Esperou (Gard)
From L'Esperou (Gard) to Boussagues (Herault)
From Boussagues (Herault) to Mazamet (Tarn)
From Mazamet (Tarn) to Mirepoix (Ariege)
From Mirepoix (Ariege) to Portella Blanca d'Andorra (France-Spain)
Wikipedia GR®7

It is advisable to follow the beacons all along your hike and to bring you the FFRandonnee topo-guide. You will also find information on MonGR.fr.
GR®, PR®, GRP®, and the corresponding signs of markings (white / red, yellow and yellow / red) are trademarks of the French Federation of Hiking. They may not be reproduced without permission. The French Federation of Hiking, state-approved, includes organizations that create and maintain hiking routes on GR®, PR® and GRP®. It publishes guides these topo hiking routes.
With your donations, support the actions of the thousands of volunteer markers of the FFRandonnee.
GR-Infos.com is an editorial partner of MonGR.fr.

Old romantic Hotel, L'Etoile Guest-House is a mountain retreat in the South of France. With a beautiful park along the Allier River, L'Etoile Guesthouse is located in La Bastide-Puylaurent between Lozere, Ardeche and Cevennes. Many hiking trails like GR®7, GR®70 Stevenson trail, GR®72, GR®700 Regordane way, Cevenol, GR®470 Allier River Springs and Gorges, Margeride, Ardechoise. Many hiking loops. The right place to relax.
Copyright © gr-infos.com